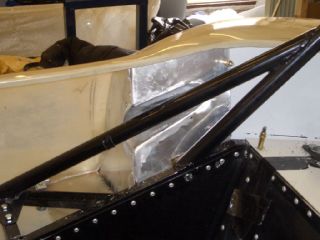 Because the side impact bar on the driver's side of the roll cage (there's no equivalent on the passenger side since I won't have a passenger to protect) wants to be where the internal panels around the wheel arch want to be, I had to make a recess in these panels to allow the side impact bar to pass through them.

First of was slotting the panels around the side impact bar, then making a filler piece to close the hole (an open gap in the wheel arch panels seemed like a rather bad and potentially damp option), and then welding it into place. With hindsight I should have made the filler piece a rather better fit as although welding it place wasn't particularly hard (thank the FSM for AC TIG welders) I did end up having to glom vast quantities of filler into the gaps between the panels and the filler piece.

As a result, a fair bit of grinding, filing and polishing was required to get it looking like this.